This is a guide for those of you who might be curious towards our custom shoe production process. I hope this blog helps you make your decision towards getting your very own custom shoe with AnimeRoom!
We want to make this purchase special by giving our readers a FREE Minifigure from the anime of your custom sneaker purchase. Just leave a note on your order to say that you've come from this blog!
The first part of the process is ordering from us!
Ordering
When you order your custom sneaker with us, you can either pick from the blank shoe or the pre-designed sneaker, as shown below:

If you select the pre-designed option, that's all you'll need to do as you've decided on your sneaker design and you're ready to have your order prepared.
However, if you would like a completely new design that we currently do not offer, select the Custom shoe option and order your size (EU sizes only).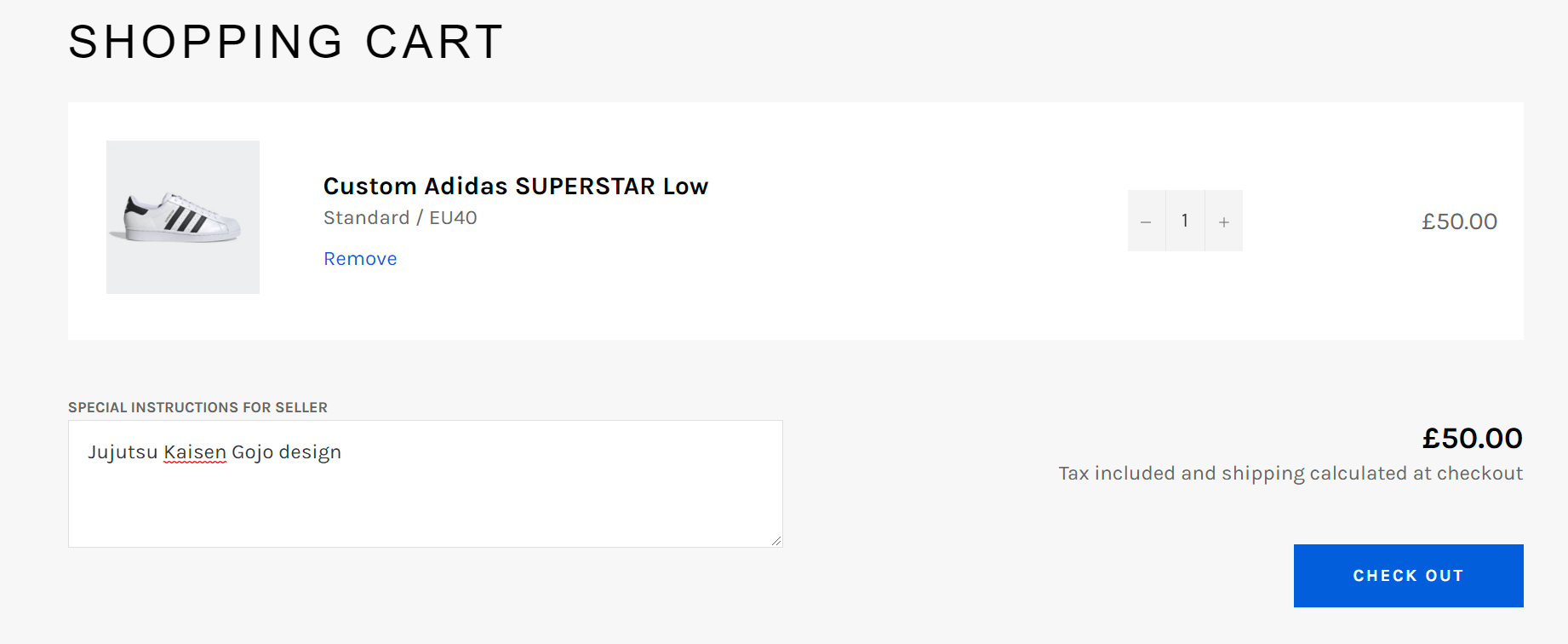 After adding your custom shoe with the correct size to your cart, you will be paying for a deposit that will be included in the final cost of your design.
Enter the details of your desired shoe design in the text box and any shoe box art you would like to complete your order.
Designing with Our Artist
After ordering with us, you will receive an email from our artist who will discuss with you the intricacies of your design and the shoe box art you would like, if requested.
We will send you photos of the design process along the way so that you are happy with the design or would like to make any changes along the way to your initial design. The first adjustment will be free but any more will come at a cost at the discretion of our artist.
Finishing Touches
Once the shoe is completed and all final adjustments have been made, we will provide you with awesome photos like these so that you can show off your new kicks to your friends!
I hope this blog helped with making your decision of getting your custom shoe order with AnimeRoom. If you are stuck on what design to get; browse through our pre-designed sneaker collection, take a look Air Force 1 Custom Design Inspiration Blog or message us on our live chat bot!
Remember to let us know if you've come from this blog with your order so that you receive a FREE minifigure with your custom sneaker purchase.
What design do you want on your custom sneaker?
Let us know in the Comments Below!
Next week's blog is a trailer analysis of the upcoming movie, Jujutsu Kaisen 0!