After 9 long years, we finally have a sequel to one of the best shounen series of all time, Bleach! Returning to screens with Ichigo and the gang in a new arc only to be seen in the manga, I cannot contain my excitement about the upcoming bankai's and getsuga tenshou's!!
Before we go any further, let's go through the trailer that was released to tease us about the upcoming release in 2022. 
 In the trailer, we first see the old bleach logo that we are familiar with but with a modern slight twist. However, after a moment, the title starts to become bloodied and somewhat filled with a dark red, giving us the first feeling of what the Thousand Year Blood War is going to be all about… drastic change is coming!
We are then hit by the nostalgic theme of the MC, Ichigo, in it's full glory, sending major chills down my spine (Hazel Fernandez, Number One). And lo and behold, we see our MC walking down with his cheeky smile against a horde of hollows!
Alongside Ichigo, we also see the rest of the troupe; Sado, Orihime and Uryu, all with a major graphical overhaul which tells me that this sequel is not going to have any problems with keeping up with it's more recent shounen rivals.
Late Title Card. BOOM! We see the bottom half of an unfamiliar face that screams antagonist harder than Hisoka from Hunter x Hunter. We also get to see the rest of the soul society members like Rukia, Renji and Byakuya, all dressed in winter outfits strangely enough. We also get to see Urahara and lots of other recognisable characters from the show including my favourite of all time, Kenpachi!
However, we also see a white haired figure soon after: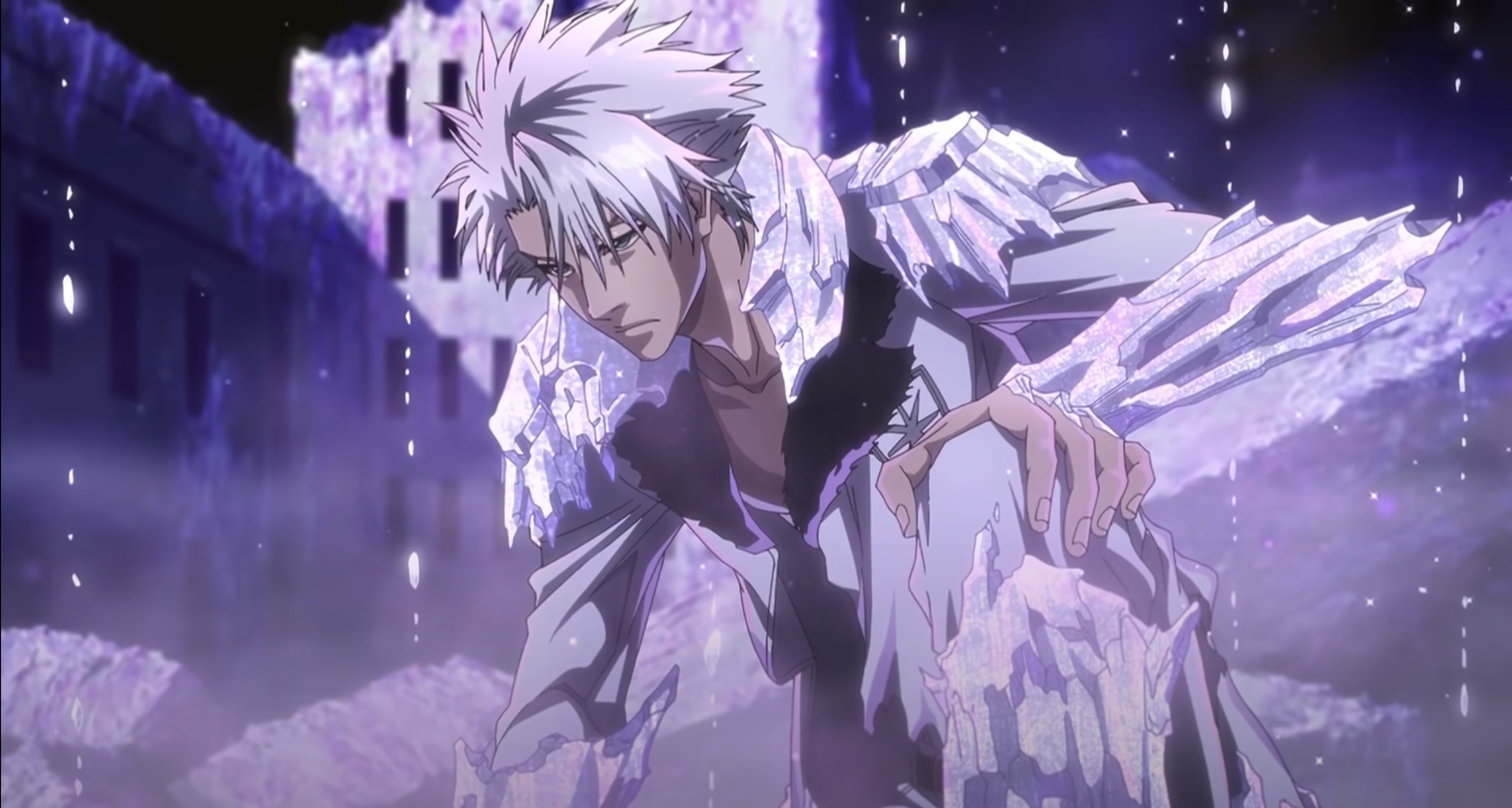 Hopefully we get to see who this character is but more importantly what their powers are. My guess is going to be something ice/diamond related since he's wearing some sort of ice or diamond armour.
After our nostalgic trip through a slideshow of characters, we return to Ichigo with a purple like aura around him. However, this reveals something interesting as the trailer tells us to revert our roots. What I believe this to be referring to is Ichigo's roots and about his bloodline being Quincy, Soul Reaper and other things that have already been explored in the manga.
We then get to see a better look at our antagonistic looking character sitting on a throne which makes me think if he is the Soul King which makes the War side of the anime very very interesting.
But forget about all of that, we then come back to Ichigo mouthing some VERY important words as he powers up…
Releasing our favourite move… GETSUGA TENSHOUUUU!!!
October 2022… see you guys then!
Look forward to the new season of Bleach!
Deck out your room with Bleach merch before the big anime release!
Who is your Bleach anime character? What do you think is going to happen in this new season/Final Arc of Bleach?
Leave Your Comments Below! (No spoilers though)
Next week's blog is "Is Anime mainstream now?"
 📸: WindyEchoes