With Haikyuu becoming a hit after arriving on Netflix, let's look into the inspiration of one of Karasuno's wing spikers, Hinata Shoyo. Join me as we explore the mystery that was once Karasuno's ace and also known to be 'Little Giant' of Volleyball! This blog post will contain spoilers for the anime so if you read the manga yet, please do so!
Tenma Udai, once the wing spiker and ace for Karasuno High School's volleyball team, currently a Manga Artist in the anime! Suprising, right? As we learnt early on from the anime, Udai was known as the Little Giant due to his height being 170cm whilst everyone else was 180cm+. The strength of this small player was immense as even Coach Ukai confesses that Karasuno was at their strongest when Udai was playing for the team.
Similarly to Hinata, Udai had to overcome the height issue in volleyball and flew higher above any block whilst aiming for their fingertips! He's had his fair share of obstacles as he improved over time. During his second year, he was benched in the middle of a match and with the frustration of coming off, he stormed off to the lockers. Saeko Tanaka saw this and when she called out for him, he gave a look of chilling confidence: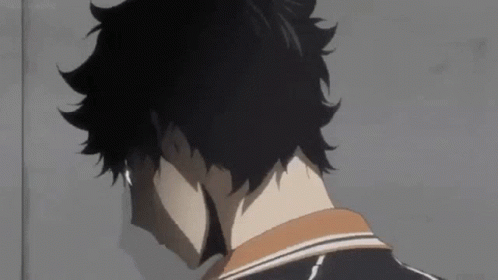 Before we proceed with the rest of the blog, p
lease check out our merch on the website
 as we have a ton of sports anime merch including the Player Uniform Cosplay from Kuroko No Basuke as well as a range of other merch!
Use VAL10 for 10% OFF on your order and FREE Stickers!! 💗💗
After not finding any college teams to take him on and not having much interest in volleyball after graduating from Karasuno, Udai decided to pursue his love for anime & become a manga artist.
After hearing of Karasuno's success in the Spring Tournament, Udai decides to see how his successors are doing. Saeko spots him and invites Udai to see Hinata. Finally, Hinata met his childhood hero before the Spring Tournament and Udai was completely taken aback from Hinata and Kageyama's quick attack as well as Karasuno's Synchronised Attack. After seeing this, Hinata was finally announced as the successor to the title of the new 'Little Giant'!
Later on in the manga, Udai has found his fire for volleyball reignited and is working on a volleyball manga in the final arc of Haikyuu! Is he supposed to be the mangaka for Haikyuu? What are your thoughts?
 Leave Your Comments Below!
Photo Creds: @Annabel-m